18 relocated universities in Donbas and Crimea were left without their libraries. Among them —are the leading universities of the East, which occupy places in the top ten in the overall ranking of higher education institutions in the country. Each institution began to create libraries from the beginning, especially the restoration of completely lost book collections.
Project's goal – transformation of libraries of relocated higher educational institutions of the East and Crimea into modern intellectual centers.
We raised UAH 100,000 for the project on a crowdfunding platform «Spilnokosht», for which we are grateful to each of the 67 philanthropists. In turn international foundation «Renaissance» provided financial support to the project in the amount of UAH 120,000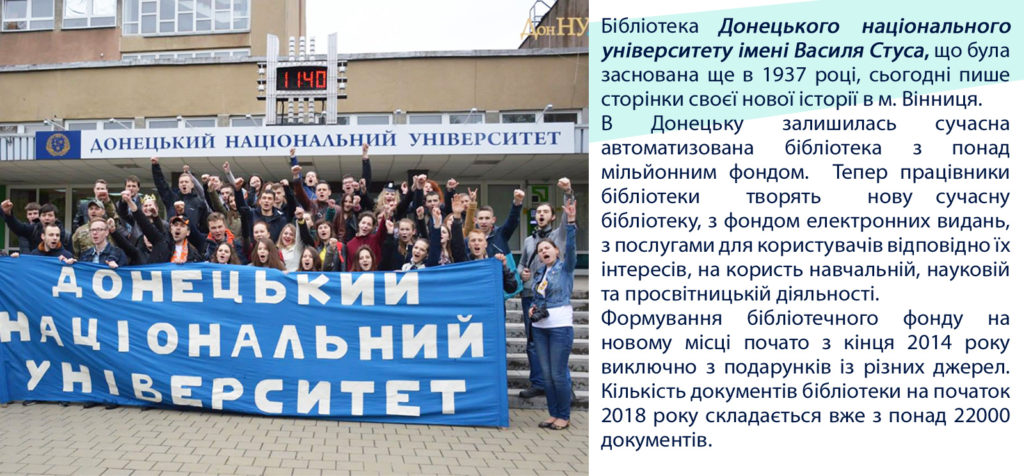 Results
More than 2,000 new books were transferred to the library, including textbooks, scientific works, popular science publications on business, economics, psychology, motivational, philosophical literature, biographies of famous people, history of innovative inventions, new technologies, and fiction.
For the first time, 15 librarians from relocated universities in the East and Crimea came together to discuss and find ways to develop libraries. The main result of the meeting was the creation of a network of librarians of displaced higher education institutions for further promotion of their interests, training, and exchange of experience. The results of the strategic session are available at link
14 librarians were trained in the leading scientific libraries of Ukraine: Scientific and Technical Library named after Denisenko in Igor Sikorsky Kyiv Polytechnic Institute, scientific libraries named after Karazin Kharkiv National University, Yaroslav the Wise National Law University, Kharkiv National Medical University.  
Held events: Seminar for librarians of relocated universities on April 8, 2019, together with the NGO Association "Information Consortium" with the support of the US Embassy; - Meeting of students and teachers of Tavriya National University named after Vernadsky with the People's Deputy of Ukraine and the Chairman of the Committee on Foreign Affairs of the Verkhovna Rada of Ukraine Hanna Hopko; - Presentation of the book - military drama "Dotsa"(Daughter) and communication with the author for librarians of relocated universities.
Contacts were established with the leading scientific libraries of the country, in particular with the Scientific Library named after M. Maksymovych Taras Shevchenko National University of Kyiv, American and Scientific Libraries of the National University of Ukraine "Kyiv-Mohyla Academy", others.  
Partners
Coordination center of relocated universities
Ukrainian Library Association
Ukrainian Association of Publishers and Booksellers
Ukrainian publishing houses "Folio", "Our format", "Summit book", "Fabula" and others
Nova Poshta Company
We create грproject's group on Facebook for communication and support librarians.
About project in media: Public Radio,, Radio Liberty,, Донецкие новости, Donetsk News, Radio "Voice of Donbass", , Video of the project.  
The following initiatives were also implemented to support the project
In October 2018, the Verkhovna Rada of Ukraine hosted an action in support of libraries of relocated universities from Donbas and Crimea
A charity event was held jointly with the European Business Association.