The "Library Country" charity fund, with the support of the Black Sea Trust program of the German Marshall Fund, announces the start of the LIB:CONTINUATION project.
Libraries of Ukraine have proven their importance and powerful activity in extremely difficult conditions. In order to support successful library leaders in continuing their work and ensuring sustainability in the sphere and profession, the project team will select 30 participants to work in a recovery course that will last from 07/20/2022 to 12/31/2022. For library leaders who continued work in evacuation/ reformatted their activities due to the destruction of the institution/ organized the relocation of their library institutions from temporarily occupied territories/ motivated to stay and work in Ukraine, the project will provide support to a remote coordination center with the aim of:
continuing professional development in the library industry;
professional legal and psychological support;
development of sustainability skills;
implementation of development tasks;
acquisition by institutions of international partnership.
Also, after the successful completion of the first consultation stage of the project, the selected participants will receive a small one-time scholarship to support their livelihood and professional development needs.
The work of the coordination center will last 6 months in an online format. Participants are expected to actively participate in the work of the center and generate ideas, participate in the training program, and be able to communicate on the Zoom platform at least once a week during the operation of the center.
During the implementation of the project, library employees will have the opportunity to communicate and share experiences, and will increase the level of skills in project activities and fundraising campaigns.
To participate in the selection, we invite librarians from the following regions: Kyiv, Chernihiv, Sumy, Zhytomyr, Donetsk, Zaporizhia, Luhansk, Kharkiv, Odesa, Mykolaiv, Kherson, Dnipropetrovsk.
Fill out the registration form using the link by July 10, 2022. The results will be announced by June 17.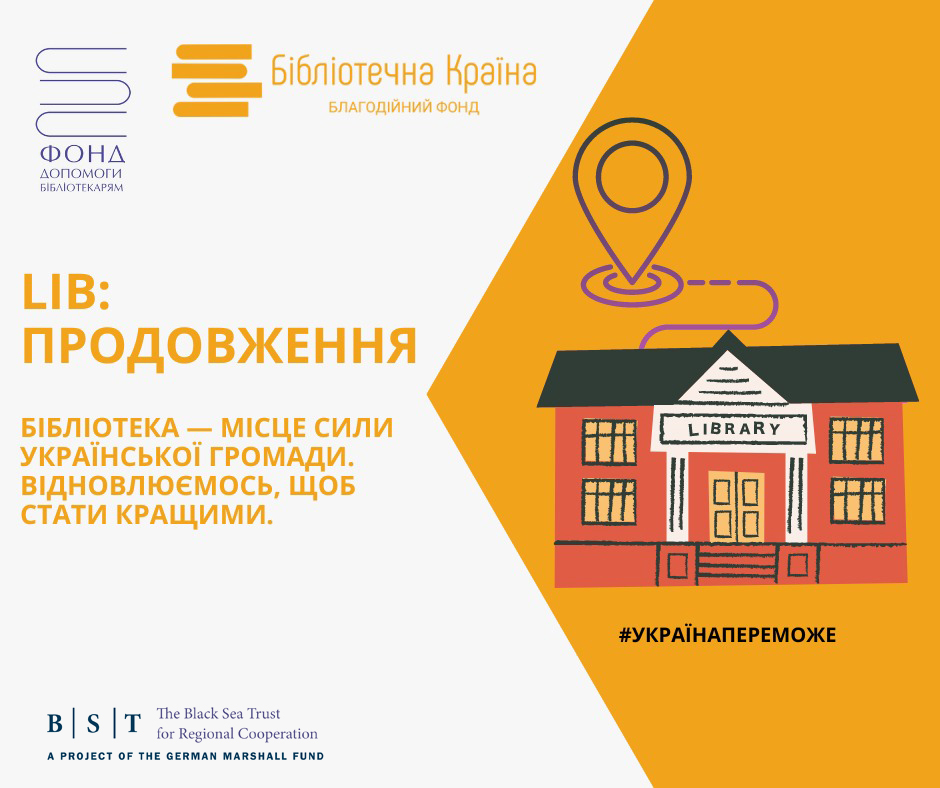 * the organizers of the "Lib: Continuation" project, in connection with the limited resources and the increased demand for support during the martial law, reserve the right to limit themselves to studying the information about the participant in the completed registration form, to independently assess its reliability, completeness and compliance with the course criteria and not to inform the participant about the results of the selection, which was not in his/her favor.